Debian menu with Ubuntu 12.04 and MATE desktop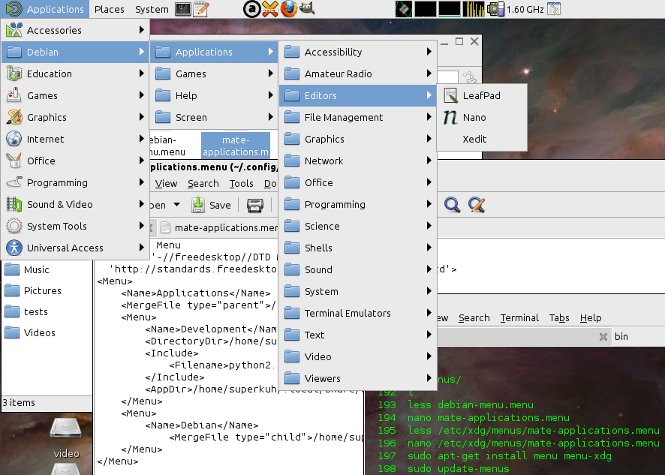 I recently put together a new computer system with a fresh Xubuntu 12.04 install. Xfce is a good desktop environment but it not my preferred one; I like gnome2. Since the Gnome people have jumped the shark the only option left was the Gnome2 fork, MATE. One of the first things I tried to do was to enable the Debian menu. Unfortunately that was not a straightforward task and the only search results on the topic were for Crunchbang with Openbox. Hopefully this page being indexed will save others time.
The first bit was disabling a lot of Xfce services, but that is another story. Then I installed menus and xdg-menu as per normal and ran sudo update-menus. I was surprised when this did not enable the Debian menu. Nor was I able to enabled it via "mozo" the MATE desktop fork of "alacarte" I was familiar with from gnome2.
Instead I had to learn the Freedesktop menu format system and edit the xml files manually to enable the Debian menu. The below is a copy of my, /home/superkuh/.config/menus/mate-applications.menu showing an example of how to add in a Debian menu entry.
<!DOCTYPE Menu
  PUBLIC '-//freedesktop//DTD Menu 1.0//EN'
  'http://standards.freedesktop.org/menu-spec/menu-1.0.dtd'>
<Menu>
	<Name>Applications</Name>
	<MergeFile type="parent">/etc/xdg/menus/mate-applications.menu</MergeFile>
	<Menu>
		<Name>Development</Name>
		<DirectoryDir>/home/superkuh/.local/share/desktop-directories</DirectoryDir>
		<Include>
			<Filename>python2.7.desktop</Filename>
		</Include>
		<AppDir>/home/superkuh/.local/share/applications</AppDir>
	</Menu>
	<Menu>
		<Name>Debian</Name>
		<MergeFile type="child">/home/superkuh/.config/menus/debian-menu.menu</MergeFile>
	</Menu>
</Menu>
Wine menu as well...
To get the Wine menu to show up as well edit /etc/xdg/menus/mate-applications.menu, and add <MergeDir> after <DefaultMergeDirs/>:
<DefaultMergeDirs/>
<MergeDir>applications-merged</MergeDir>
Then do,
ln -s ~/.config/menus/applications-merged ~/.config/menus/mate-applications-merged
Interests
Other
TkTTS

A Gnome2/Nautilus-script GUI frontend for text to speech apps. Includes a few extra text processing utilities. Screenshot.

epub2text
LLaMAr: AI IRC Chat Bot

A perl IRC client that acts as a front-end chatbot interface for a locally run AI LLM model.

opera-sessions-to-tab-number.pl

This prints the number of tabs in every browser session file in a directory. It reads both Opera text and binary session file formats <12.x and Firefox session files.
Good Books
Type, "/@say/Your message here." after the end of any URL on my site and hit enter to leave a comment. You can view them here. An example would be, http://superkuh.com/rtlsdr.html/@say/Your message here.

Legal Bullshit
Terms of Use:
You may not access or use the site superkuh.com if you are under 90 years of age. If you do not agree then you must leave now.
The US Dept. of Justice has determined that violating a website's terms of service is a felony under CFAA 1030(a)2(c). Under this same law I can declare that you may only use one IP address to access this site; circumvention is a felony. Absurd, isn't it?
It is my policy to regularly delete server logs. I don't log at all for the tor onion service.
search. (via google)

About
I enjoy recursion, dissipating local energy gradients, lipid bilayers, particle acceleration, heliophysics instrumentation and generally anything with a high rate of change in electrical current. This site is a combination of my efforts to archive what I find interesting and my shoddy attempts to implement it as cheap as possible.
Recent Music
np: Metric - Lie Lie Lie
Recently Read
James Tiptree Jr - Brightness Falls from the Air
C Robert Cargill - Day Zero
Fritz Leiber - A Pail of Air
Marina J Lostetter - Noumenon, Noumenon Infinity, Noumenon Ultra
Christopher Priest - An Infinite Summer
Isaac Asimov - Hostess
Gregory Benford - Timescape
Travis S Taylor and Les Johnson - Saving Proxima
Hugh Howey - Beacon 23
Lavie Tidhar - Central Station
Michael Swanwick - Bones of the Earth
Scott Meyer - Out of Spite, Out of Mind
Michael Siemsen - Exigency
David Walton - The Genius Plague
Joan Slonczewski - Brain Plague
Greg Egan - Light Up The Clouds
Larry Niven - A World Out of Time
Contact
I get all email sent to @superkuh.com
Make-up any address *@superkuh.com
If I don't respond check your "spam" folder. Megacorps like google used to mark me as spam.

IRC as 'superkuh'
Libera
Freenode (dead)
Undernet
OFTC
ShadowWorld
Quakenet
EFNet
DALnet
EsperNet
SlashNET
Hackint
Starchat (dead)
Chatspike
P2P-Net
GIMPNet
GeekShed
GameSurge
Snoonet
Rizon
IRCHighway
The-Agency
MBRnet
Darenet
SynIRC
irc.pine64.org
irc.scpwiki.com
ergo.chat
Matrix as @diesuperkuh : matrix.org
ICQ as 17073181 and 22018234
AIM as diesuperkuh
MSN as diesuperkuh @ hotmail.com