Simulated Woodtype Winamp2 skin fixed for Audacious 2.x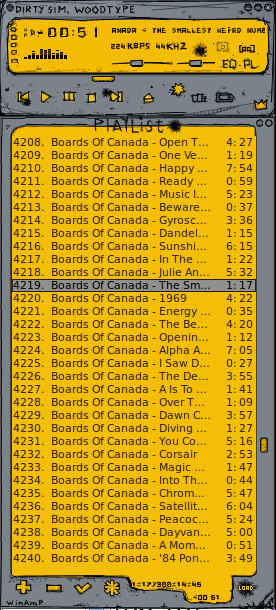 For many years I've been using a skin called "Dirty Simulated Woodtype". Long ago it was with Winamp 2.x on windows. When I moved to linux I began using XMMS, but eventually easy support for gtk1 applications, and the way XMMS interacted with ALSA and/or Pulseaudio became... impaired... in distributions I used. Wanting to stay with a small memory footprint, no nonsense music player I switched over to Audacious 2.3. Unfortunately Audacious isn't completely cross compatible with all Winamp style skins. So I unzipped the skin and spent a few hours trial and error editing bitmaps till the corruptions when away. This is it; the same old skin. But it now works in Audacious 2.x. I tried to contact the creator of this skin but all the email addresses I found just bounced. So I'm hosting it here instead. The .wsz file is just a renamed zip containing the bitmaps. It should load fine in any app supporting winamp skins, and, of course, Audacious.
Simulated Woodtype Winamp2 skin fixed for Audacious 2.x
[comment on this post] Append "/@say/your message here" to the URL in the location bar and hit enter.
---
How to compile the scrobbling plugin from Audacious 2.2 for Audacious 2.3 on Ubuntu 10.04
$ sudo apt-get install audacious-dev
$ sudo aptitude install libcurl4-dev
$ wget http://distfiles.atheme.org/audacious-plugins-2.2.tgz
$ tar -zxvf audacious-plugins-2.2.tgz
$ cd audacious-plugins-2.2
$ ./configure --enable-dependency-tracking --enable-lastfm --enable-scrobbler --disable-aac --disable-icecast --disable-adplug --disable-jack --disable-alsa --disable-altivec --disable-libFLACtest --disable-amidiplug --disable-libmadtest --disable-amidiplug-alsa --disable-lirc --disable-amidiplug-dummy --disable-mms --disable-amidiplug-flsyn --disable-modplug --disable-aosd --disable-mp3 --disable-aosd-xcomp --disable-mtp_up --disable-bluetooth --disable-neon --disable-bs2b --disable-nls --disable-cdaudio --disable-option-checking --disable-coreaudio --disable-oss --disable-cue --disable-paranormal --disable-dbus --disable-projectm --disable-dependency-tracking --disable-projectm-1.0 --disable-dockalbumart --disable-pulse --disable-esd --disable-rocklight --disable-evdevplug --disable-rpath --disable-ffaudio --disable-sid --disable-filewriter --disable-sndfile --disable-filewriter_flac --disable-sse2 --disable-filewriter_mp3 --disable-statusicon --disable-filewriter_vorbis --disable-streambrowser --disable-flacng --disable-vorbis --disable-gio --disable-wavpack --disable-gnomeshortcuts --disable-xmltest --disable-hotkey --disable-xspf
Use an editor to open (in audacious-plugins-2.2) configure (line 7498) and configure.ac (line 126),
change:
INPUT_PLUGINS="tonegen console psf xsf metronom vtx"
OUTPUT_PLUGINS="crossfade null"
EFFECT_PLUGINS="audiocompress crystalizer ladspa voice_removal sndstretch stereo_plugin echo_plugin"
GENERAL_PLUGINS="song_change alarm skins vfstrace gtkui"
VISUALIZATION_PLUGINS="blur_scope spectrum"
CONTAINER_PLUGINS="m3u pls"
to:
INPUT_PLUGINS=""
OUTPUT_PLUGINS=""
EFFECT_PLUGINS=""
GENERAL_PLUGINS="song_change"
VISUALIZATION_PLUGINS=""
CONTAINER_PLUGINS=""
Then,
$ make
$ cd src/scrobbler/
$ sudo cp scrobbler.so /usr/lib/audacious/General
Interests
Other
TkTTS

A Gnome2/Nautilus-script GUI frontend for text to speech apps. Includes a few extra text processing utilities. Screenshot.

epub2text
LLaMAr: AI IRC Chat Bot

A perl IRC client that acts as a front-end chatbot interface for a locally run AI LLM model.

opera-sessions-to-tab-number.pl

This prints the number of tabs in every browser session file in a directory. It reads both Opera text and binary session file formats <12.x and Firefox session files.
Good Books
Type, "/@say/Your message here." after the end of any URL on my site and hit enter to leave a comment. You can view them here. An example would be, http://superkuh.com/rtlsdr.html/@say/Your message here.

Legal Bullshit
Terms of Use:
You may not access or use the site superkuh.com if you are under 90 years of age. If you do not agree then you must leave now.
The US Dept. of Justice has determined that violating a website's terms of service is a felony under CFAA 1030(a)2(c). Under this same law I can declare that you may only use one IP address to access this site; circumvention is a felony. Absurd, isn't it?
It is my policy to regularly delete server logs. I don't log at all for the tor onion service.
search. (via google)

About
I enjoy recursion, dissipating local energy gradients, lipid bilayers, particle acceleration, heliophysics instrumentation and generally anything with a high rate of change in electrical current. This site is a combination of my efforts to archive what I find interesting and my shoddy attempts to implement it as cheap as possible.
Recent Music
np: Metric - Lie Lie Lie
Recently Read
James Tiptree Jr - Brightness Falls from the Air
C Robert Cargill - Day Zero
Fritz Leiber - A Pail of Air
Marina J Lostetter - Noumenon, Noumenon Infinity, Noumenon Ultra
Christopher Priest - An Infinite Summer
Isaac Asimov - Hostess
Gregory Benford - Timescape
Travis S Taylor and Les Johnson - Saving Proxima
Hugh Howey - Beacon 23
Lavie Tidhar - Central Station
Michael Swanwick - Bones of the Earth
Scott Meyer - Out of Spite, Out of Mind
Michael Siemsen - Exigency
David Walton - The Genius Plague
Joan Slonczewski - Brain Plague
Greg Egan - Light Up The Clouds
Larry Niven - A World Out of Time
Contact
I get all email sent to @superkuh.com
Make-up any address *@superkuh.com
If I don't respond check your "spam" folder. Megacorps like google used to mark me as spam.

IRC as 'superkuh'
Libera
Freenode (dead)
Undernet
OFTC
ShadowWorld
Quakenet
EFNet
DALnet
EsperNet
SlashNET
Hackint
Starchat (dead)
Chatspike
P2P-Net
GIMPNet
GeekShed
GameSurge
Snoonet
Rizon
IRCHighway
The-Agency
MBRnet
Darenet
SynIRC
irc.pine64.org
irc.scpwiki.com
ergo.chat
Matrix as @diesuperkuh : matrix.org
ICQ as 17073181 and 22018234
AIM as diesuperkuh
MSN as diesuperkuh @ hotmail.com